Top 3 Simple Halo Moissanite Engagement Rings
Proposing to the love of your life is the most crucial moment of your life. What makes this moment precious is making her heart ❤melt with a ring 💍that writes your love for her in golden letters. If you are looking for a simple yet the perfect ring to steal her heart, you've come to the right place. Brace yourself😄 as we walk you through the Top 3 list of Moissanite and their competitors. We warn you, these enchanting lists of rings will make you fall in love all over again💑😍!
Are you ready to take a look at what we have as the first set of rings?
It is Aubrey from Leyloon and Ava Moissanite & Diamond Halo ring from Best Brilliance
" I was lucky, really lucky. That my partner loved it" My girl is funny, she is smart, she is everything I ever wanted in life. I couldn't wait to make her mine for the eternity of time. It was a summer afternoon. and I gathered my parents, hers and mine and our family for a Father's Day dinner at the Zoo. But she didn't know the little secret that was resting safely in my jacket, she was looking elegant, wearing just a simple white floral blouse and a casual jean, totally unprepared for the moment. I wanted my family to be there, for this grand occasion that I will forever save in the depths of my memory lane, for my future children, a moment that will be cherished for the rest of my life and hers. I held her hand, hoping to hold it forever, promising her this world and the next, I got down on one knee and confessed my love for her. I could swear that I saw the reflection of the gorgeous ring in her tear-filled eyes. The loud cheers from my family members and the onlookers faded into a blur when she nodded with a yes and I lifted her off her feet into a heart melting embrace. "
-Jeremy Harper"
Aubree looks like the epitome of bliss☺ with a Flat edge Cathedral French Pave and a stunning Moissanite proudly placed in the center. If you are looking for a simple ring with the right amount of bling😉💖, this is the one you should go for.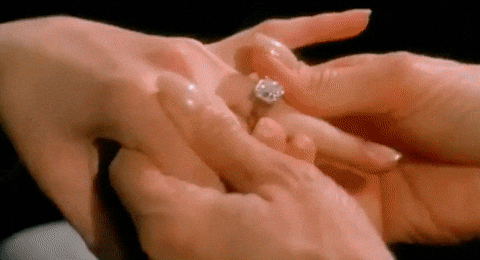 He proposed to me on one of our date nights. I had had sushi and a glass of wine when he casually slid a box towards me. I was star-struck, I wasn't sure if I was dreaming or was it really happening. He whispered those magic words, while holding my hand and I asked him if it was a prank because I still couldn't believe my eyes and ears. He told me he was serious and I started laughing cause it all felt so surrealistic. I told him yes, I would marry him but he should stop with the pranks. He asked me to open the box, and there it sat, the ring I instantly fell in love with, that shit doesn't happen to me often. Of course, I said yes!!! and sensed the escape of the breath he was holding in. Thinking back, I still can't believe I am engaged and I absolutely love my ring, I was so proud to show it off to my friends and family and I've received so many compliments for it.
This gorgeous ring is very similar to Aubree for its cushion Moissanite and the brilliant halo💫 embracing the center stone, there is also the stones which run down the shank that compliments the ring is the cherry on top🍒 So, which one do you think beats the other?
Let's take a look at the second set of rings on our top three Moissanite Halo list,
Julia from Leyloon tussling vs Zoey from Best Brilliance
"My name is Jack and my fiancé is Emily. I was one of those, to whom the idea of marriage never made sense. I was committed to her, and she was to me. I always thought what is the point of making it all official with a white dress and tuxedos, exchanging a ring while everyone was watching you kiss. Before you all go judging me about it, we all have our opinions, or had. My family really loved this girl, she was really close to my sisters like she was to her own. One night my mom came to me and cried that she really wanted to see me and Emily, get married, and yes that's it. Being a mama's boy seeing my mom cry had me at the gun's point to get a ring for Em soon. I got her this ring, it is a   gorgeous ring, with a lot of bling and perfect craftsmanship, I knew it is just what Em would really love. I proposed to her two days later and she was really surprised. That look on her face, will forever be etched on my heart, I just wonder why I didn't propose to her earlier. I got the perfect ring for her and I got myself the perfect girl. "
-Jack Haydon-
Everything is romantic about Julia🤗! The high set halo and the complimenting band is definitely worth proposing with. 1.5 Carat with a plain shank is simply beautiful, shiny and sparkly.
Versus
"Selene is very laid back and she loves everything simple. When I saw this ring, it knew it was so her. I proposed to her on a vacation, the view was beautiful and the sun was setting on the horizon. I was shaking like a kid who was about to have his first kiss, she said yes, right away, but the seconds felt like an eternity at that moment. She loved this ring and I am so glad I got this for her, the halo symbolizes the sweet nature of my fiancé."
A modest yet chic ring for the nature girls🤭❤ who prefers less drama. Huge 4 carat D vvs1 Emerald shape 14k white gold halo will touch your girls heart in every way.💖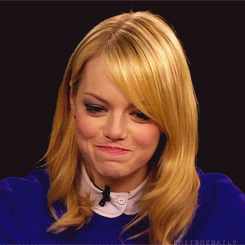 Next We have,
Reagan From Leyloon  Battling vs Marquise Moissanite Two-Tone Halo Engagement Ring
This ring portrays the perfect balance between glamor and simplicity. It has got the glitz💍💖💫 and the style. Three stone oval Moissanite put together with Halo and French pave setting. This glorious ring throws off a simple timeless yet elegant vibe for it's fascinating design. If you want your girl to have the best of both worlds, Reagan is the one you should go for☺.
Versus
"when I saw this one, I knew this is it. Love how this looks and makes me feel❣🙈"
-Mary Samuel
Every woman likes pink🎀, no matter how old she grows. If you are looking for a ring that will forever make her feel young💘😉. Simple double edge halo design for a marquise moissanite with two-tone yellow and white gold. This gorgeous handmade piece come in F-G color and VS clarity. 
We've reached the end of our list of Simple Halo Moissanite engagement rings. We hope you loved the gorgeous collection of rings and hopefully fell in love 💘with one of them Which one do you think beats the rest 😍?let us know in the comments below.