IS SILVER MAGNETIC? 🧲 COMPLETED SIMPLE GUIDE
Real silver DOES NOT have physical magnetic properties. It's just the charm and looks of the metal that irresistibly draws us to it. Don't we women just swoon over silver jewelry!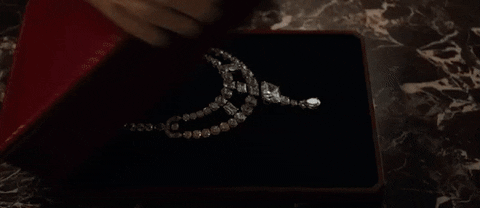 Silver jewels excite me, rejuvenate my senses, yet melt me completely!
When a woman adorns sparkling silver jewelry, its magical and alluring.
So whenever I go out to buy a silver jewelry, this question always lingers on my mind…
Is this piece of silver magnetic?
Well!
How can a metal as alluring as silver not be magnetic?
I'm sure you are left all confused by now, so let me make a few things very clear.
How do I test the purity of silver jewelry?
The best magnet for testing the purity of silver is made from an alloy called neodymium. It is a strong magnet which will give you clear results.
As discussed, silver is paramagnetic and the magnet will not stick to it. If the silver is not authentic and has another metal inside it, the magnet will attach itself to the silver.
This test should be performed with a combination of other tests to confirm the possibility of a non-silver core metal. When I go to buy authentic silver jewelry, I always conduct this magnet test to ascertain the purity of the silver ornaments.
While silver does not stick to a magnet, it will respond to it. The magnet is capable of creating an electric field around the silver.
So when the magnet is moved around the silver jewelry, a piece of pure silver jewelry will interact with the magnet and will start moving.
The thermal conductivity of ice is very high. Take a piece of ice from the freezer and put it over silver.
If it is pure silver, the ice will melt rapidly creating a pool of water around the jewelry. However, this test is more so undertaken for silver coins and bars.
You have to be very careful while performing this test so that your silver jewels do not get damaged. A silver piece that is pure will produce a high-pitched sound.
You can keep a real silver coin( esp. that was minted before 1965), the one where you are aware of its purity. Tap a few metals together including the silver jewelry that you want to test.
If it produces a high-pitched sound which is similar to the ringing of the real silver coin, then your silver jewelry is real.
While this method will fetch the most authentic results, it could damage your metal jewelry a bit. Silver acid tests are available in stores and online.
You can take the piece of silver ornament and make a scratch on a small part of it, preferably the underside.
Take the acid and drop a predetermined amount on the marked area. The acid testing kit will have a scale indicating the color change scheme to determine the purity of your silver assets.

My personal tip: Another simple way to find out whether your silver ornament is pure is by observing it. In due course, if your metal jewelry tarnishes, then it is pure silver. Also, reputed jewelers put a mark of purity on their silver jewelry, just look for it.
Here I would Like to add an important point. Trust is a big factor while buying jewelry. I make purchases from my age-old trusted jewelers and they have not once disappointed me.
You should always buy silver from established and trusted jewelers who are known for their high-quality silver ornaments.
What is this hype around possessing silver ornaments?
The advantages of owning a wonderful piece of silver jewelry are manifold…
Being an avid fan of silver jewelry, I like to possess it in it's pure form.
Over the years I have discovered some amazing benefits of possessing silver jewelry, that extend beyond physical ornamentation attributes of the metal.
Now, I take you along this wonderful journey of discovering the magic of silver jewelry.
Silver adds to your appeal and makes women look even more attractive and radiant.
Let's find out how:
⦁ Silver

jewelry 

compliment all kinds of apparels, whether it is an evening gown or a flowing maxi dress.
⦁ Silver also suits all skin tones and makes a statement of elegance and poise.
⦁ Wearing silver jewelry will help you define your personal brand which reflects your style and sophisticated persona.
And, if what could be better when people notice your jewelry and you receive loads of compliments. You will not only feel good about yourself… here's a secret , you will definitely end up making new friends!
Silver goes very well with gray and blues, the cooler color tones. For an evening out for a dinner date, there is nothing sexier than adorning an elegant silver pendant with matching earrings.
And for a bigger event, a smart choker, or a bigger pendant will be suitable. Silver also compliments corporate dressing, giving you a clean immaculate look.
Your clients and business associates will be impressed and you will finally bag that coveted contract!
It is a durable piece of accessory and does not get worn out after a few days of wearing. In fact, with only a minimal amount of care, you can possess these pure silver ornaments for years, and even pass them down to the beautiful younger generation of women.
Silver is hypoallergic and does not cause allergic reactions or infections on the skin. So you can easily wear silver jewelry for long hours at a stretch without any discomfort.
Silver is not just a piece of jewelry that you adorn to beautify yourself.
Surprised? Yes, silver has numerous health benefits also.
If you feel low on energy, wearing silvery jewelry can improve your blood circulation and in turn, your energy levels. Silver also plays a part in warding off infections, aids bone formation and plays a part in skin maintenance and repair.
And… you are not spending a fortune!
Most of all, silver jewelry is very pocket-friendly and will not cost you as much as buying diamonds or gold.
Durable and handy to maintain, easy on the budget and most of all, accentuates a women's beauty and looks.
Are these reasons not enough to buy some exquisite pieces of silver ornaments? And especially when there are some outstanding designs and amazing craftsmanship being done on this metal, I think it's totally justified to own a few exclusive silver jewels.
Buying silver jewelry
Before making a purchase, you have to ensure that the silver jewelry that you are investing in, is pure. Silver is paramagnetic, in fact, metals like iron, cobalt, nickel, and gadolinium have magnetic fields.
Since you know that silver is not magnetic, you can use this property to test the purity of the silver.

As I wrap-up…
Getting back to the intrinsic question- Is silver magnetic?
Oh yes!! It can attract people, compliments, and admiration.. so isn't it magnetic?

Every woman deserves to look good and be pampered. It could be your wife, girlfriend or your mother, buying her a nice piece of pure silver jewelry is the best way to shower her with affection.
Shop an exclusive piece of jewelry from our wide range of fine silver jewelry where each piece is crafted with love and perfection.