What's the Truth about Diamond Clarity?
So, you're finally here! Seems like you're making progress. 😊 It won't be long before you're at the finish line and ready to make her yours forever. It will feel magical to pull out a beautiful diamond ring and then put it in her beautiful finger. 🤩 You will get to see her smile that will undoubtedly be brighter than any stone in the world. 😁 However, it's not a competition! Your girl is the most precious treasure in the world. ✨🌟 She is a queen and you must treat her like one! 😊 Let's get to the important turn of this journey!
What's the truth about diamond clarity? 👀 Do you need to get the highest grade diamond or will lower grade diamonds work just as well? Let me spill the tea for you, bro! ☕
☕
Why Does the Clarity Even Matter?

☕

I mean if you are following any skin activists or your girl, clarity might not be your favorite spot to go to! But perspective is the king! Clarity in a relationship is a binding force, by all means. Similarly, Clarity is a really important aspect when you're trying to buy a good looking diamond. 😊 If you've already decided to buy a diamond instead of any other gemstone, then it's more than obvious that looks matter to your girl! 😃 See why I said clarity is the binding force in your relationship? So, you clearly know what she clearly likes and wants! Bonus points.

If you want to make her happy, a beautiful stone with no inclusions is what's important to get. 🤗 No inclusions will make sure that the right amount of light passes through it and makes it sparkle. ✨ Less inclusions will also make it look super clean and absolutely stunning but of course a teeny bit less. Okay, maybe more than a teeny bit. 💫 Since, diamonds like these are very hard to find so buying it for your girl will be game changer for you in oh so many ways! I mean, c'mon do I need to spell it all out for you. 😁🌟 ;)
☕
How Much Clarity Is Good Enough?

☕

Okay, so long story short it's all about how much the two of you discuss things in every teeny tiny detail! If she's the kind of person who doesn't get bothered much if she buys low calorie yogurt instead of the extra low calorie yogurt then she might not really care a lot of clarity! 

I mean in my expert girl language opinion, man the low cal stuff matters for some of us girls. So yeah, you are good to go if she is like "meh" it's just yogurt anyway! So then just getting a low graded diamond which is pleasing to the eye is what you need to get. 😃 Whatever makes your world smile, yeah? VVS and VS diamonds fall into this category. Many people getting diamonds for their engagement rings get these stones. 💫✨ My guess is they also don't have to have a lot of yogurt and calorie related talks :D
☕
Diamond Clarity Scale

☕

It's important to familiarize yourself with this grading scale in order to understand the process well. You can also talk about this to your girl to look super smart. Be the Harvey Specter of her life! I mean who doesn't love that guy. Smoking hot with brains.  🤪😉 Make sure to talk about it after you've proposed to her! 😅😂 Talk about sealing the deal ;)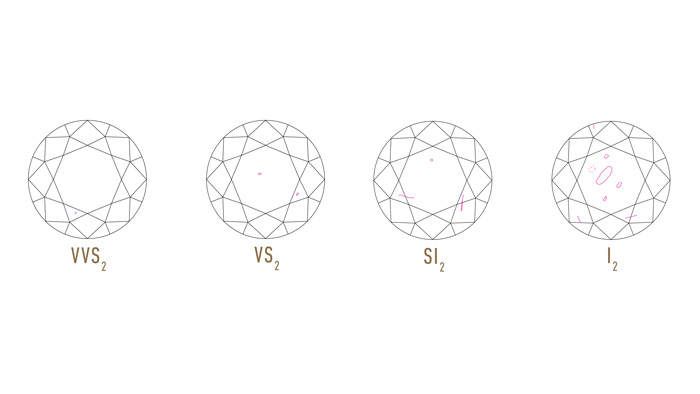 Image credit: GIA
FL - Flawless
IF - Internally Flawless
VVS1, VVS2 - Very Very Slight Inclusions
VS1, VS2 - Very Slight Inclusions
S1, S2 - Slight Inclusions
I1, I2, I3 - Imperfect
Most people fall into the VVS or VS category - looks just as perfect as an FL diamond, unless seen under  magnification. 😊 Though of course FL - IF is the perfect category for a flawless diamond and definitely the showstopper. Like there is full stop after it, nothing less 😃
So, but What's the Truth about This Diamond Clarity Really?
You know like I always say! Look out for clues. While you might wonder what's the truth about diamond clarity. Definitely diamond clarity scale is real and true. But how much that truth holds to be true in your choice is all based on your relationship dynamics! Remember when we talked about the light purple and slightly light purple tops? It's just like that. Or the yogurt talk. How keen is she? How much her jewelry and its perfection matters to her? Think about all of that!